Ein Od Milvado - There is Nothing besides The Creator - Silver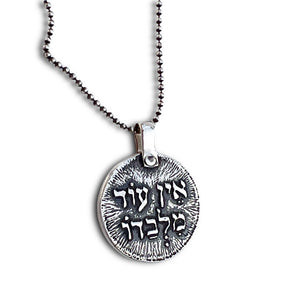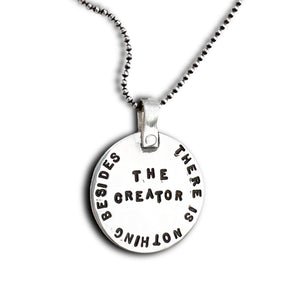 1" round sterling silver pendant on a sterling silver chain. 
"Ein Od Milvado" Hebrew side one. "There is Nothing Besides the Creator" English side two. This pasuk (verse) is found in Devarim (Deuteronomy) 4:35. 
Kabbalists (Jewish Mysticism) believe:
Concentrating on the phrase Ein Od Milvado (Hebrew: אין עוד מלבדו, "There is none but Him [God]"[18]) shields a person from danger. *
Perhaps the most important piece I've ever made - There is nothing besides the creator. Empirically true - no matter your belief, faith, or spiritual orientation. Whether it's the Big Bang or the Garden of Eden, from the quark to the atom to string theory... 
Without the force of "The Creator" (however you conceptualize this), absolutely NOTHING would exist. This piece is a meditation on the wonder and miracle of existing / existence and the magnificent mysterious gift of it all.
Creation is happening continually; we're just lucky to partake in this wild ride. 
From Chabad.org By Yosef Marcus:
This is a statement on the nature of the cosmos as much as it is a theological belief. What of the world and all that is in it? What of the empirical sightings of our fleshly eye? Is it only an illusion?
No. The Torah states clearly: In the beginning, G‑d created the heaven and the earth. For six days, He created things. 
*https://en.wikipedia.org/wiki/Segula_(Kabbalah)#cite_note-19