With all your heart. With all your Soul. With all your Might. Cuff Bracelet - Bronze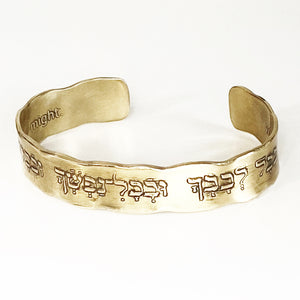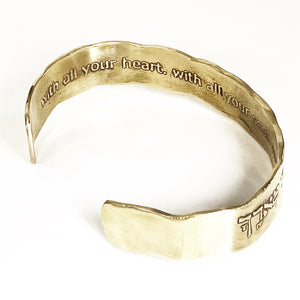 1/2" x 7 1/8" bronze cuff bracelet.
Raised Etched Hebrew on the outside and raised etched English translation on the interior.

Reads like a mantra - With all your heart. With all your soul. With all your might. This poetic statement elegantly reminds us to live to the fullest in every moment. Etched from a vintage prayer book, this is an excerpt from the Hebrew daily prayer - the V'ahavtah. The prayer begins with the commandment:  "And you shall love...." I'm good with that.
I believe the beauty of this statement transcends religion when read as pure wisdom and poetry, although it is sacred to both Judaism and Christianity. In Judaism, it is found in the context of one of the most ancient and foundational prayers. In Christianity, it is made reference to when Jesus was asked what he believes to be the most important commandment - his reply was this: To love the Lord your God with all your heart with all your soul with all your might. 
Beyond religion, to love beyond one's self while living to the very fullest of one's ability - this is a good life... hence the mantra, hence this bracelet. Let's rock this one wild and precious life.