Three Stories Combo Chain - bronze & sterling silver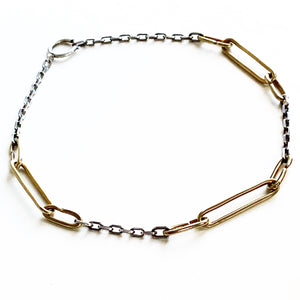 16" - 20" adjustable length combination chain made of bronze handcrafted links and sterling silver chain.
One good story deserves a couple more.
Designed to emphasize the beauty and texture of mixed metals and links. Compliments both warm gold and cool silver accessories. 
An essential, effortlessly interesting statement necklace to elevate your blazers, suits, dresses, tees, airplane clothes, trips to the grocery store, Sunday sweats... did I miss anything?