Abacus Bead Station Necklace - Bronze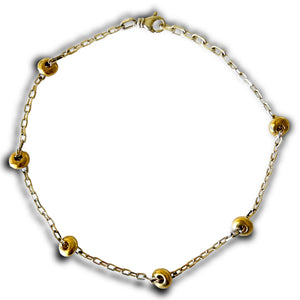 16" - 18" adjustable length sterling silver chain + six bronze 1.2 cm (7/16 in) beads. 
A classic station necklace made of beautifully organic, shiny bronze "Abacus Beads" hand fashioned in a sterling silver rectangle link chain. 
Since 2700-2300 BC. in Mesopotamia, the Abacus has been used to calculate... Imagine the sound of beads sliding and clapping as cardamon and silk trade in ancient, distant bazaars.
 An elegant, symbolic reminder to count those blessings :)