Be Strong. Be Strong. Let us be Strengthened - Silver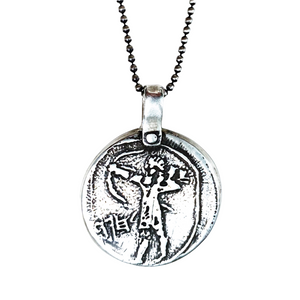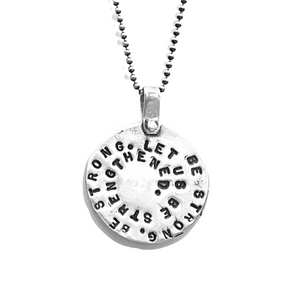 1" sterling silver disc on a sterling silver chain. 
Side one - Etching from an ancient seal found in an archeological dig by the Western Wall conducted by the Israel Antiquities Authority.  This rare seal dates to the seventh century BCE – to the time when the kings Manasseh and Josiah reigned, it is extremely rare. 
-According to the excavation director, archaeologist Shlomit Wexler-Bdolah of the IAA, "The seal, which apparently belonged to a private individual, is made of black stone, is elliptical in shape, and measures 1.2 x 1.4 cm. It is adorned with an engraved decoration of an archer shooting a bow and arrow. The name of the archer is engraved in ancient Hebrew script next to him and reads LHGB (meaning: for Hagab). The name Hagab is mentioned in the Bible in Ezra 2:46, as well as in the Lachish Letters, which also date to the time of the First Temple".
We can suggest that the owner of the seal – Hagab, who chose to portray himself as a Hebrew archer depicted in the Assyrian style – served in a senior military role in Judah. (Israel Antiquities Authority)
Side two - the English translation of the Hebrew benediction/saying - Chazak, Chazak v'nitchazek. Be Strong, be strong, let us be strengthened. 
When embarking on a new venture, an adventure, or anything requiring strength, this is said. Also appropriate to acknowledge when someone accomplishes anything of significance. Now more than ever, moving through our world is both an adventure and an accomplishment. Be strong, be strong, let us be strengthened!