Celestial Touch Stone Cuff - Silver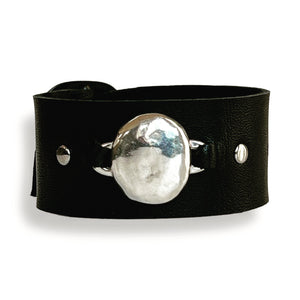 Sterling silver 3/4" oblong silver "stone" mounted on 1" wide black leather with adjustable buckle closure. Comes long in order to trim for your perfect size. 
Reflective like a full moon, an organically formed smooth domed "stone", soothing to the touch and radiant on your wrist. It's a perfect combo of sophistication with a rugged rock-n-roll vibe. The edgy yet elegant leather cuff you've always wanted.