Garden of Faith - Butterfly leather cuff bracelet - bronze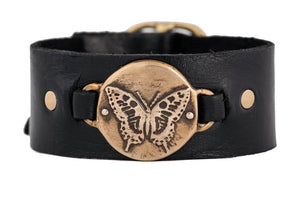 Bronze 1" medallion, mounted on 1" vegetable tanned black leather strap. Buckle closure.
The ultimate symbol of transformation - of soaring change, infinite promise, uplifting hope and freedom - the butterfly. Not your typical delicate butterfly -  it's a statement, a spiritual companion, powerful. This piece is beyond cool. It's hard to take it off. As great as it feels, it looks even better.
*Will not ship before 12/14/12